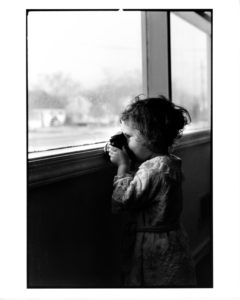 I am a photographer, life organizer, and visual literacy advocate based in San Francisco.
Photos from my childhood reveal I had at least two toy cameras by age three.
My main picture-making tools are a secondhand Nikon 35mm camera and my current iPhone. The former has been a companion since adolescence.
After graduating with a degree in art history and an excessive number of credits in all things photography, my non-major, I spent the first 20 years of my professional life immersed in other peoples' photographs. During that time, I had the great privilege to work with Mary Ellen Mark, the International Center of Photography, Natural History Magazine (at AMNH), Mother Jones, Ed Kashi, The New York Times Magazine, Matt Black, The Industry Standard, the Labor Archives and Research Center (SFSU), and the Asian Art Museum of San Francisco, among others. These days, I represent and license my father's photographs.
My photographs have been exhibited in national juried shows and published in literary and editorial venues including yes!, The Adirondack Review, The Sun, grist, Resurgence, and Glimmer Train. Photographs I made of student-led divestment rallies at Rutgers University in 1985 appeared in Mandela's Life, Legacy Recalled by New Jersey Public Television (2013).
An impulse that led me to Sacramento early one morning to document California's first benefit corporations resulted in a photo essay in B Labs' 2012 annual report and one of my photos of Patagonia's founder, Yvon Chouinard, being included in The B Corp Handbook: How to Use Business as a Force for Good.
On a personal note, I am honored to have a photograph in Barbara Becker's staggeringly intimate and powerful memoir, Heartwood: The Art of Living with the End in Mind (Flatiron Books, 2021).